Prints of this image are available on my Deviant Art page.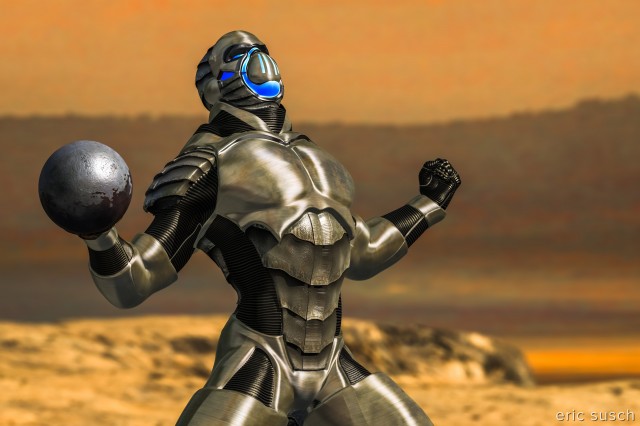 In keeping with my goal of making my images look like stills from a motion picture, I set the camera on this piece low with a long lens.  If I were shooting this as a film that's what I would do.  Unfortunately that makes the background environment flatten and, in this particular image, I think it makes it look like a layered composite over a still.  I spent a lot of time trying to adjust the depth of field and the camera angle to make it look "whole" but I think I was ultimately unsuccessful.  There may be several reasons for this but I think it may be partially psychological.  In a film this style is common and accepted without question, but here we know beforehand that the image is synthetic and therefore our eye is on the lookout for signs of fakery.
One thing I learned from my early experience with actual physical model making is that a shallow depth of field will make the model look small, regardless of how well it's done.  You always need everything in focus to fool the eye and make it look bigger, otherwise the eye will notice other cues and the actual scale will be revealed.
I really don't want to be limited in that way with my CGI work.  I need to find a way to use a shallow depth of field and make it look right, especially on medium and close shots.
Rendered in DAZ Studio
Color correction in Lightroom
Prints are available on my Deviant Art page.  Hang one on your wall today!