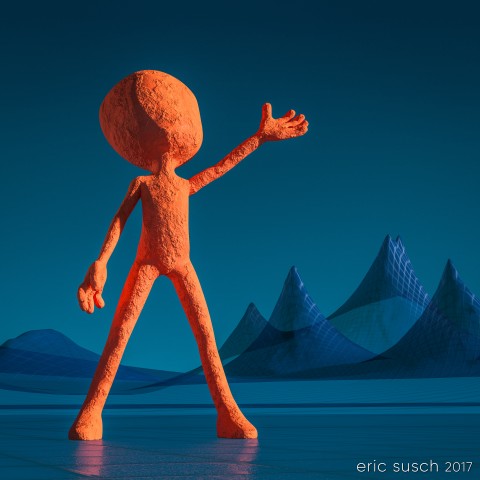 I've been wanting to do an abstract piece for some time.  I love the way this came out.  I'll definitely be doing more art like this in the future.

There's not much to say about this piece. It's pretty straight forward.  The light is from the HDMI which is essentially a gradient with a bright spot that becomes the "sun."  The gradient did create a very slight banding across the sky and I had to bring the piece into photoshop to add some noise to try and smooth it out.  That was the only postwork I did in Photoshop.  You can still see the banding a bit but it's much better than it was.  You can see the grain actual size behind the mountain in the color correction image if you click to embiggen it.

I tried to make the ground look like ice by playing with the Metallic Flakes Weight setting in the Surfaces tab.  All in all I'm very happy with this one.
Created in DAZ Studio 4.9
Rendered with Iray
Minor post in Photoshop
Color Correction in Lightroom
Figures used:
Blank Boi
Planet X-3
Mec4d PBS Shaders vol.2 for Iray
Wireframe and Hologram Shaders