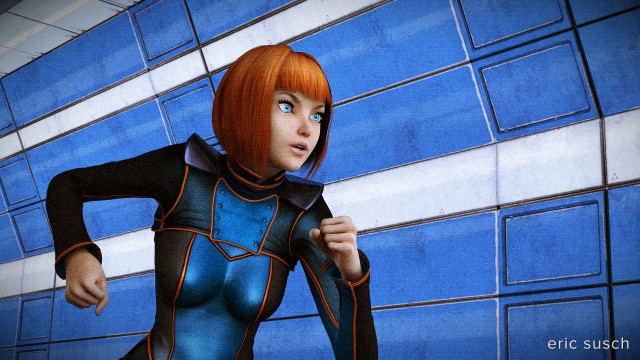 For most of the films and television shows I've worked on the goal of color correction was to make the picture look technically correct and pretty – healthy skin tones, bright colors, maybe a bit "hyper real" but still normal.  Anything that degraded the image was bad and needed to be fixed.  What I'm trying here is relatively new to me.  I want something more stylized for this animation.  I've thrown in some grain and even a faint hint of scan lines to roughen up the super clean CGI.  I've also washed out the skin tones in favor of the blue and orange.  For comparison here is the original render before color correction.  (Click both to embiggen.)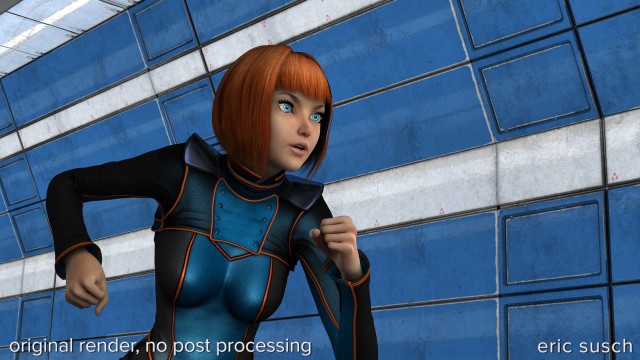 I've been using the CC tools in Lightroom for most of my CGI work to date but since this is an animation I'm using the tools in Adobe Premiere.  I'm finding it much harder.  I love the CC tools in Lightroom.  They're more intuitive than the controls in Premiere or photoshop.  I wish Adobe would create Lightroom style CC tools for all their products.
If this were a still image I probably would have gone a lot further with the grunge but it has to work as an animation.  It has to look good in motion and on all the other close-ups and wide shots too. I'm pleased with it right now although I'm a little concerned that the grain will be lost when the video is finally compressed and uploaded to youtube.  We'll have to see what happens.
Created in DAZ Studio 4.8
Rendered with 3Delight
Color Correction in Adobe Premiere
Figures used:
Aiko 6
XTech for Genesis 2 Female
Modular Sci-Fi Kit 01 + 02