DAZ3D released a new model yesterday, Victoria 7.  It signals the beginning of a new generation of figures, Genesis 3.  Here's a quick comparison of the new model to the old Victoria 6.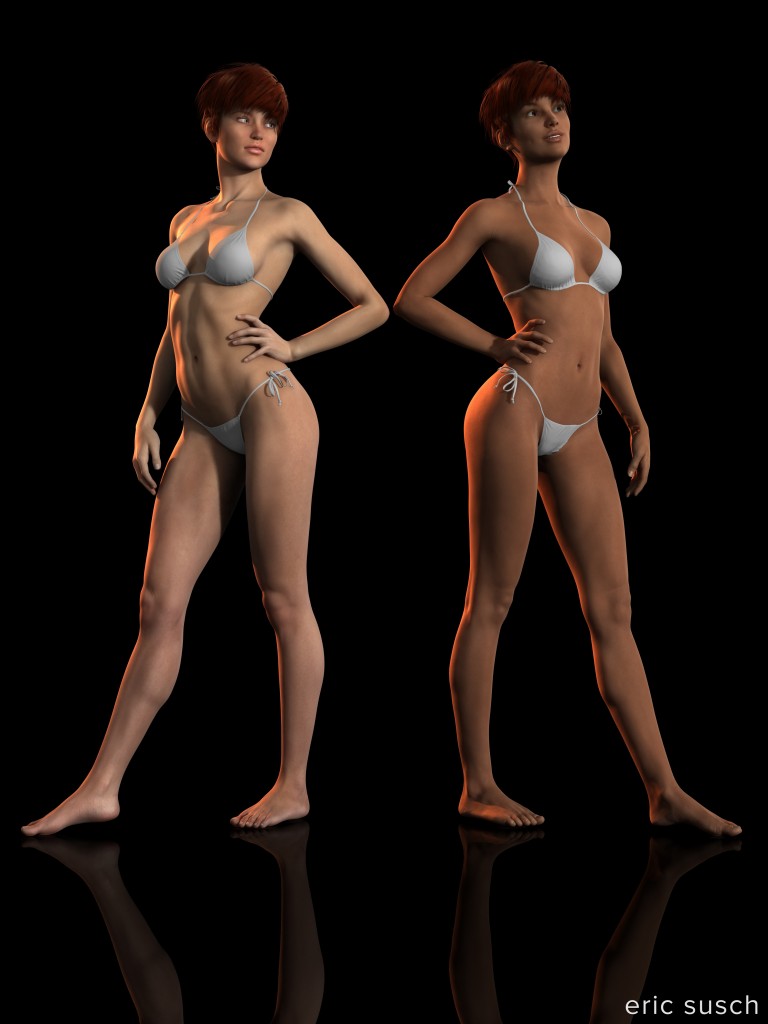 For this comparison I set V6 (on the left) with pose #4 from 'Perfect 10' Standing Poses for Genesis 2 Female and converted the mirror pose for V7 via the new Genesis 2 to Genesis 3 Pose Converter. It wasn't 100 percent. I had to pull the right hand out of V7's side and her left foot was in the floor a bit but other than that it was a close conversion. The V6 pose is unmodified except for the head turn.
Hongyu's Bikini for V6 was auto fit to V7 and that too is a little off as you can see. Pyrit Hair for Genesis 2 Female is auto fit to V7 as well and that seems fine. (Note, the weirdness on V7's left wrist isn't a problem with the model, it's the shadow of the bikini tie.)
V7's expression is using the new Genesis 3 Female Expressions (100% happy and 10% excitement.) It looks good and there are lots of controls to play with. V7's eyes were horribly cross-eyed however, maybe from the pose conversion? I don't know. I had to work with pointing V7's eyes quite a bit. I don't think I got it resolved. Right now her eyes are pointed at an object in the sky and they look better but still a bit cross-eyed.
Figures posed in DAZ Studio 4.8.  I used the V6 Belle all (default skin) materials for V6 and the default all 3Delight materials for V7. Rendered in 3Delight with no postwork.